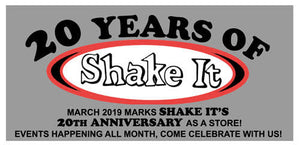 Shake It Update 3/07/19: Soul Step Records In-Store; New Weezer; Reissues From Brainiac & Neil Young
This Saturday (3/9) we welcome several performers from the Soul Step Records label including This Pine Box, Young Heirlooms, Audley, and Krystal Peterson. Please see below for the rest of our March schedule celebrating Shake It's 20th Anniversary!
New releases this week include Weezer's Black Album (on LP) and Teal Album (on CD), a reissue of an EP from Dayton's Brainiac, and Neil Young's soundtrack to Dead Man.
But those are only a few of the highlights, scroll down a bit to see the rest of this week's list of new releases and reissues.
Your favorite local record store owners Jim and Darren Blase recently visited WVXU to discuss Shake It's 20th Anniversary with Elaine Diehl. Please check out the interview here.
March marks Shake It's 20th YEAR in business so we're having a sale and inviting a bunch of friends each weekend to help us celebrate! We expect to see you here, don't flake on us.
We Have Signed Copies
...of the latest releases from Lucero, Rev. Peyton & His Big Damn Band, Neckdeep, Lord Huron & Trampled By Turtles now available on the website for you out of town folks. Click over to here to grab one.
New And Recent Releases...
William Basinski - On Time Out Of Time
On Time Out Of Time, the latest release from minimalist composer William Basinski was originally commisioned in 2017 for a Berlin art exhibit. These works make us of, among other things, exclusive recordings from interferometers that captured the sound of two distant black holes merging over a billion years ago.
Coathangers - The Devil You Know
On The Devil You Know, Atlanta trio The Coathangers take their vitriolic punk, playful house party anthems, and heart worn ballads and meld them into a new sound that retains all their former live show glories while revealing a new level of songwriting and nuance.
Dido - Still On My Mind
Dido is back with Still On My Mind, the singer's first album in five years. Encapsulating a variety of styles and genres, ranging from folk roots to hip-hop and dance.
Flight Of The Conchords - Live In London
In October of 2018, ten years after the launch of their HBO series, New Zealand duo Flight Of The Conchords returned to HBO for an all-new comedy special. Taped before a live studio audience in London, and featuring seven new songs along with old fan favorites.
Foals - Everything Not Saved Will Be Lost Part 1
The first of two Foals albums scheduled for release this year, Everything Not Saved Will Be Lost Part 1 (Part 2 is due in the fall) is now available. The album finds Foals defying expectations, eagerly breaking the traditional pop song structure the band has increasingly felt tied to.
David Gray - Gold In A Brass Age
David Gray is in renewed creative form on Gold In A Brass Age, the eleventh album from the UK singer-songwriter. The album has a positive vibe, aiming to find the brightness in a melancholy status.
Patty Griffin - Patty Griffin
Patty Griffin's new self-titled collection represents an entirely new chapter for the incomparable singer-songwriter, immediately standing among the most deeply personal of her remarkable two-decade career. Collecting songs written during and in the aftermath of a successful battle with cancer, and as an equally insidious disease entered American politics.
Meat Puppets - Dusty Notes
Dusty Notes is the first Meat Puppets studio album to feature all three of the original members since 1995's No Joke! Also featuring jazz-trained keyboard virtuoso Ron Stabinsky and Curt Kirkwood's guitarist son Elmo, making intuitive, inspired tunes, overflowing with genuine musicianship.
Misery Index - Rituals Of Power
Misery Index return in furious fashion with sixth full-length Rituals Of Power, which finds the band putting on a hard-hitting display of strength and brutality, grown out of their experience gained as a relentless touring machine.
Maren Morris - Girl
Since her 2016 debut, Maren Morris has become a crossover star with a voice that has elevated country music. She reflects her evolution on new sophomore album Girl, stepping outside the confines of country music to blossom artistically in bold and beautiful ways.
Amanda Palmer - There Will Be No Intermission
Amanda Palmer's latest is her first effort in more than six years, the multi-faceted artist's most powerful and personal collection to date, with songs that tackle the big questions. The album's themes may be dark, but the overall sonic and lyrical mood is one of triumph.
Sasami - Sasami
The self-titled debut from LA's Sasami, who has gained a reputation as an all-around musical bad-ass, playing French horn in orchestras, playing with local bands, and providing vocals/horn/string arrangements for studio albums.
Weezer - Weezer (The Teal Album)
Hot on the heels of Weezer (The Black Album), Weezer now deliver a collection of reverently performed covers, including, of course, Toto's 'Africa'.
New And Recent Vinyl Releases...
Brainiac - Electro-Shock For President
Vinyl reissue of the 1997 EP from Dayton, Ohio's legendary Brainiac, whose promising career was cut short by the death of Tim Taylor the same year.
New Order - Ceremony (Version 1) / Ceremony (Version 2)
Reissue of New Order's first single, released in 1981 after the death of Joy Division's Ian Curtis. Also issued is the alternate version released later that year, both now remastered and pressed on heavyweight vinyl.
Weezer - Weezer (The Black Album)
Last week's CD release, now out on vinyl.
Neil Young - Dead Man Soundtrack
The soundtrack to Jim Jarmusch's Dead Man, originally from 1996. All instrumental pieces provided by Neil Young, interspersed with memorable movie sound bites.
And just a reminder that we are always selling tickets to The Woodward Theater, Madison Theatre, and other local events sold through CincyTicket. Just ask for tickets at our front counter.
There is no service charge on tickets when paying with cash. However, there will be an additional charge of $1 per ticket if paying with credit card.
---