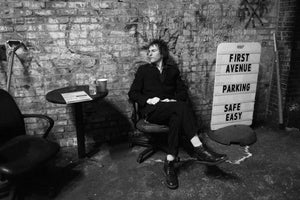 Shake It Update 3/02/18: Tommy Stinson House Show, New Releases from Wussy, Breeders & More
This week brings us new releases from The Breeders, Andrew W.K., Barrence Whitfield and Titus Andronicus.


Scroll down for our list of the rest of this week's new releases and reissues.
----------------------------------------------------------

The upcoming Wussy album What Heaven Is Like has officially been announced! Coming out on May 18th from Shake It and Damnably (UK/Europe). Check out their new single 'Gloria' over at Stereogum.

----------------------------------------------------------

Upcoming "house" show with Tommy Stinson's Cowboys in the Campfire coming up on Sunday, March 25th at 7 PM. You might say we are a bit excited about this one! You'll need to have a ticket for this event, available only through eventbrite.com.



---------------------------------------------------------------------------------------

Record Store Day 2018 is only a few months away! It all happens on April 21st this year. Good to hear that Run The Jewels will be this year's ambassador.

----------------------------------------------------------

Looking forward to the Homecoming festival that The National are putting together in April... we will see you there!
New And Recent Releases...

Andrew W.K. - You're Not Alone
On You're Not Alone, Andrew W.K.'s first album of new rock songs in nearly twelve years, the party is reborn as he delivers a set of high octane, full throttle rock n' roll.
The Breeders - All Nerve 
The first record in a decade from The Breeders features the classic Last Splash-era lineup of Kim and Kelley Deal, Josephine Wiggs, and Jim Macpherson.
Lucy Dacus - Historian
Historian, the new album from Lucy Dacus, is a remarkably assured 10-track statement of intent full of bracing realizations, tearful declarations, and moments of hard-won peace, expressed in lyrics that seem destined for yearbook quotes and first tattoos.
Sue Foley - The Ice Queen
Blues gal Sue Foley's first solo album in more than a decade was recorded in Austin, with an impressive list of Texas guitar greats (Charlie Sexton, Jimmie Vaughan, Billy Gibbons) making guest appearances.
Moaning - Moaning
Moaning's new self-titled album is an impassioned debut from a trio of L.A. DIY veterans, with a sound uniquely dark and sincere.
Ed Schrader's Music Beat - Riddles
Riddles finds Ed Schrader and Devlin Rice exploring a new direction with help from close friend Dan Deacon, who produced, arranged, and co-wrote. The result is a polished and passionate masterpiece of nuanced alt-rock.
Soccer Mommy - Clean
Clean is the new release from Sophie Allison, aka Soccer Mommy. It's an emotional album, heavy on themes of growth, isolation, and change but balanced with a light touch and hooks to spare.
Dick Stusso - In Heaven
Dick Stusso recorded sophomore LP In Heaven with psych visionary producer Greg Ashley in a defunct old church. The new peacock strut to Dick's vague longing and malaise suits his countrified T. Rex sound quite well.
Superorganism - Superorganism
Superorganism is a sprawling, multi-limbed collection of eight international musicians and pop culture junkies, recruited from London, Japan, Australia, and New Zealand. The album tracks the band's rapid trajectory from shared house side project to global audiovisual powerhouse.
Tracey Thorn - Record
The new solo album Record from Marine Girls/Everything But The Girl vocalist Tracey Thorn is a set of synth-driven tracks, arriving and leaving with punchy sub-three-minute directness.
Titus Andronicus - A Productive Cough
On A Productive Cough Titus Andronicus set aside the leadfooted punk anthems of previous albums in favor of a subtler, more spacious approach that pushes Patrick Stickles' soul-baring songwriting to the fore.
Barrence Whitfield & The Savages - Soul Flowers Of Titan
Soul Flowers Of Titan, the latest from Barrence Whitfield & The Savages, is a wild, electric phantasmagoria of blues, rock, garage, and soul; it blasts off into diverse orbits only to come back together into a singular Savage cosmology.
New And Recent Vinyl Releases...

The Beach Boys - Sounds Of Summer: The Very Best Of
Collecting 30 tracks, nearly every US top 40 hit from The Beach Boys' long career.
Roy Orbison - Sings Lonely And Blue / Roy Orbison - Crying / Roy Orbison - In Dreams
Vinyl reissues of Orbison's first three albums, from '61-'63.
Pet Shop Boys - Please / Pet Shop Boys - Actually / Pet Shop Boys - Introspective
Remastered vinyl reissues of the first three Pet Shop Boys albums, from '86-'88.
And just a reminder that we are always selling tickets to The Woodward Theater, Madison Theatre, and other local events sold through CincyTicket. Just ask for tickets at our front counter.

There is no service charge on tickets when paying with cash. However, there will be an additional charge of $1 per ticket if paying with credit card.
---