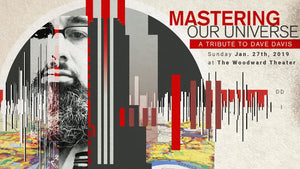 Shake It Update 1/24/19: New Releases & Reissues; Dave Davis Tribute at Woodward on Sunday
This week brings us new releases from Fidlar and William Tyler, and reissues from Buzzcocks and Green River.
But those are only a few of the highlights, scroll down a bit to see the rest of this week's list of new releases and reissues.
This Sunday: Mastering Our Universe: A Tribute To Dave Davis
In November of 2018 Cincinnati lost a very important person to our music community. Dave Davis was an amazing sound engineer, raconteur and friend to so many of the cities musicians. This benefit will allow many of those fans, musicians, family and friends to come together to celebrate Dave's life and work.
The tribute will feature musical performances and a silent auction with the proceeds going to fund a scholarship for a woman at UC in audio studies. This is a realization of a personal goal that Dave had expressed, specifically to bring more women into the audio industry.
Six bands will perform, representing the four decades of Dave's work, including The Tigerlilies, Fairmount Girls, Pike 27, The Sundresses, and Wussy. Tickets are available at Shake It!
We have signed copies of the latest releases from Lucero, Rev. Peyton & His Big Damn Band, Neckdeep, Lord Huron & Trampled By Turtles now available on the website for you out of town folks. Click over to here to grab one.
New And Recent Releases...
Big Star - Live On WLIR
Recorded for a radio session at Ultrasonic Studios in New York shortly after the release of their classic second album Radio City, this new edition of Big Star's Live On WLIR (released on CD in the 90's by Rykodisc as Live) is now updated and remastered.
Blind Guardian - Imaginations From The Other Side / Blind Guardian - Nightfall In Middle Earth / Blind Guardian - A Night At The Opera
Remixed and remastered editions of three classic albums from the German power metal band.
Bring Me The Horizon - amo
Bring Me The Horizon return with their sixth studio album amo, one of the band's most exhilarating, genre crossing releases to date.
Buzzcocks - Another Music In A Different Kitchen / Buzzcocks - Love Bites
Reissues of the seminal first two albums from legendary punks the Buzzcocks, led by the recently departed Pete Shelley. Both albums are lovingly restored and remastered from the original tapes, with new liner notes by Jon Savage.
Fidlar - Almost Free
Almost Free, the new release from LA's Fidlar touches on many of the tragedies and irritations of modern life. But through sheer force of imagination and unchecked joi de vivre, Fidlar manages to turn feeling wrong into something glorious and essential.
Michael Franti & Spearhead - Stay Human: Vol. II
The latest release from Michael Franti & Spearhead is the band's seventh studio album, influenced by Franti's documentary of the same name.
Grateful Dead - Road Trips Vol. 3 No. 4: Penn State/Cornell '80
A 3 CD set of two Dead shows from 1980, during the early phase of Brent Mydland's tenure as the band's keyboard player.
Green River - Dry As A Bone / Green River - Rehab Doll
New editions of Seattle grunge pioneers Green River's 1987 mini LP Dry As A Bone and 1988 full-length Rehab Doll. The band's members went on to found Mudhoney, Pearl Jam, and Love Battery.
Keuning - Prismism
Prismism is the debut solo album from Killers guitarist Dave Keuning. Combining both acoustic and electric guitars, as well as keyboards, Keuning has created a pscyhic diary, allowing us to connect the dots and learn what brought him to a career crossroads.
Mike Krol - Power Chords
Mike Krol's new Power Chords picks up where 2015's Turkey left off, tracing the guitarist's journey back to punk rock, harnessing the technique and musical redemption referenced in its title.
Addi McDaniel - After The News
On her captivating solo debut, After The News, gifted singer Addi McDaniel breathes vivid life into original songs by collaborator Tom Siering, whose material she defly pairs with covers of songs by Andrew Bird and Bruce Cockburn.
Rival Sons - Feral Roots
Recorded at two legendary studios (Nashville's RCA Studio A and Muscle Shoals Sound Studio of Alabama), the new album by Rival Sons finds the bluesy hard rock band approaching ten years as an act together.
Santana - In Search Of Mona Lisa
A new five-track EP from guitar legend Santana, inspired by his interaction with the Mona Lisa at the Louvre in Paris.
Say Anything - Oliver Appropriate
Long-running emo pop punk band Say Anything release their new Will Yip-produced album Oliver Appropriate, which the band's leader Max Bemis views as a sequel to 2004's ...Is A Real Boy.
Sneaks - Highway Hypnosis
Eva Moolchan, aka Sneaks, stakes out her own turf in the male-dominated Baltimore/DC area punk scene, and among the patriarchy. Inspired by black and queer feminists of the post-punk and hip-hop worlds, Sneaks has both the punk spirit and pop sense to carve out her own path in music.
Swervedriver - Future Ruins
UK shoegaze legends Swervedriver return with Future Ruins, the followup to 2015's I Wasn't Born To Lose You, further exhibiting the band's fabled widescreen escapism.
Walter Trout - Survivor Blues
Blues titan Walter Trout set out to record a covers album of old obscure songs that have hardly been covered. Survivor Blues is the result, with guest appearances by Sugaray Rayford and Robby Krieger.
William Tyler - Goes West
Goes West is the new solo album from former Silver Jews and Lambchop member Willam Tyler, on which he is backed by a band that includes guitarist Bill Frisell and singer/songwriter Meg Duffy.
New And Recent Vinyl Releases...
Anderson. Paak - Oxnard
The recent CD release, now on vinyl.
Eagles Of Death Metal - Death By Sexy / Eagles Of Death Metal - Heart On
Limited 180gm vinyl reissues of EODM's second and third albums, both produced by Josh Homme.
Secret Machines - Ten Silver Drops
Limited 180gm vinyl pressing of Secret Machine's 2006 sophomore album.
Soulfly - Ritual
The October CD release, now on vinyl.
Bruce Springsteen - Springsteen On Broadway
Recent CD release, now out on vinyl.
Sun Kil Moon - This Is My Dinner
Recent CD release, now out on vinyl.
Unkle - Psyence Fiction
The 1998 debut album from the duo of James Lavelle and DJ Shadow, back in print on vinyl.
And just a reminder that we are always selling tickets to The Woodward Theater, Madison Theatre, and other local events sold through CincyTicket. Just ask for tickets at our front counter.
There is no service charge on tickets when paying with cash. However, there will be an additional charge of $1 per ticket if paying with credit card.
---