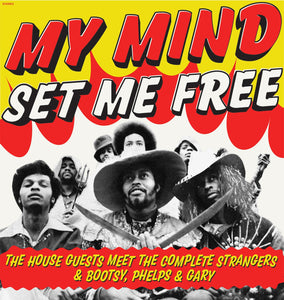 House Guests Pre-Order Now! Out August 23rd!
We are happy to announce that today starts the pre-orders for our eagerly awaited reissue of some choice cuts from House Guests, Complete Strangers & Bootsy, Phelps & Gary! 
My Mind Set Me Free : The House Guests Meet The Complete Strangers& Bootsy, Phelps & Gary  LP 
Shake It Records , Music From Ohio Volume 5 
To be released on Shake It Records, Cincinnati. OH August 23, 2019
Vist our Pre-Order page for available variants!
A slab of Cincinnati hard funk slammers - most reissued (legally) for the first time! Post JB's / Pre-P-funk outfits headed up by brothers Catfish & Bootsy Collins along with a Cincinnati who-who's of top club players who could turn it out night after night after night in places like The Psychedelic Grave or The Round Up
Club - that featured a caged bear in the club!
This selection, hand picked by Bootsy, highlights that youthful output under various names as the  House Guests, The Complete Strangers & Bootsy, Phelps & Gary - the monikers may have changed but what they brought it to the stage every night - leaving the club & audience devastated - never did.
All tracks remastered from the original master tapes. 
House Guests - My Mind Set Me Free 
House Guests Rated X - What So Never The Dance
Bootsy, Phelps & The Complete Strangers - Fun In Your Thang Part 1
Bootsy, Phelps & The Complete Strangers - Fun In Your Thang Part 2 
House Guests - Miss Chicken 
House Guests - Be Right Back 
Bootsy, Phelps & Gary- Say Something Good 
Bootsy, Phelps & Gary - Together In Heaven 
Bootsy, Phelps & Gary - Love & Understanding
Stores can wholesale through Think Indie, AEC / Amped  & Traffic
---