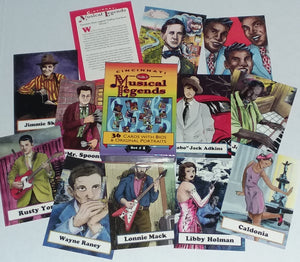 Celebrate the release of Cincinnati Musical Legends Card Deck Set #1 & Chuck Cleaver's Solo LP
Swing by the shop to celebrate 2 exciting releases from Shake It (and Artworks re: Deck) on July 19th at 7 PM.
Wussy co-front person & Ass Pony Head Honcho, Chuck Cleaver, will perform songs from his long awaited debut solo LP on release day with an stripped down set while downstairs we celebrate the release of the first deck from our Cincinnati Musical legends Card Deck Series. (Will probably be another 3 in the series) , We are are hoping to have a couple of the Living Legends join us that night so please stop on by & have a chat with the artists that created the original portraits as well as view the work-up sketches, source materials & recordings in our new display cases down stairs and maybe even chat-up a Legend!
Cincinnati Musical legends Card Deck Set # 1 Available 7/19
The inaugural set of 36 Cincinnati Musical Legends, randomly selected to tell of diverse & fascinating history of music in our Queen City! 
Shake It Records has teamed up with Artworks to tell the stories of some known & unknown Cincinnati-area musical performers, places & labels that all together tell quite a fascinating story.   From Mamie Smith to Lonnie Mack, Caldonia to Katie Laur and Hobo Jack Adkins to The Cotton Club - all are celebrated with an original portrait & a thumbnail bio on the back.
The project was headed up by master sign painter & comic legend, Justin Green, along with the steady assistance of Artworks Project Manager Joe Walsh, Apprentice Artists Josie Masset, Katelan Thomas & Kadin True and Guest Artist Joe Kuth .
Check Cleaver "Send Aid" Solo LP Available 7/19
Chuck Cleaver (Wussy, Ass Ponys) has been writing and performing his thoughtful, idiosyncratic songs for over thirty years, developing a cult following of devoted fans across the United States, Europe and beyond. However, this summer's upcoming Send Aid LP marks his first recorded solo output.
According to Cleaver, "folks have been trying to get me to do a solo record for years now", but the thought of recording without his regular bandmates had always left him feeling a bit out-of-step. But then a prolific writing streak came along, and after Wussy had assembled their latest LPs (Forever Sounds and What Heaven Is Like), he was left with a near-album's worth of extra material. He characterizes these solo tracks as "primarily Wussy rejects, although I wrote a couple just for this beast."
---