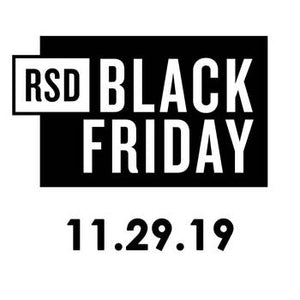 Black Friday 2019
Hello All -

Looks like we have received pretty much everything on the Official RSD Black Friday List  as of Wednesday the 27th.  We are tracking a few stragglers on trucks that will hopefully arrive later Wednesday or early Friday. 

Billy has held back a bit of usual deluge of killer used that is constantly rolling in to make the day a bit more special so check the walls & collectors bins!

IMPORTANT - Bring a canned food or non-perishable food item for CAIN's ( Churches Active In Northside ) Food Pantry and save 10% OFF your ENTIRE purchase!
Our Thanksgiving Holiday Weekend Hours :
Weds 27th : 10am to 8pm
Thursday / Thanksgiving : CLOSED
Friday 29th 9am to 9pm
Sat 30th 10am to 9pm
Sun 1st Noon to 6pm

Everyone have a GREAT & SAFE Thanksgiving and we'll see you Friday morning at 9am 9 or whenever you choose to come! )


- Shake It!
---