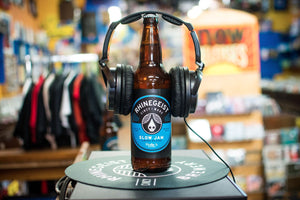 10th Annual Record Store Day: Saturday April 22
Taking it to the next level for this year's RSD! Over 400 limited releases, Rhinegeist's Slow Jam IPA, Frontier Folk Nebraska, Dawg Yawp, Dopamines and crate after crate of used vinyl hitting the floor for the first time. This Saturday, opening at 8am. Check out our awesome display window by legendary artist Justin Green! 
OPEN @ 8AM //

Over 400 new releases // 

EXCLUSIVE VINYL RELEASES from Shake It (Wussy's 3rd LP and Split 7" from The Tillers & Frontier Folk Nebraska) // 

Rhinegeist's New SLOW JAM on tap! // 

Dopamines "Tales of Interest" Record Release Party @ 5PM // 

FREE In-store performances by Frontier Folk Nebraska and Dawg Yawp @ 7PM // 

10% OFF with donation of any canned good //
The TICKLE PICKLE is helping us celebrate Record Store Day this Saturday 4/22 by opening way early (9 am) and serving up awesome breakfast sandwiches and RHINEGEIST SLOW JAM. Stop by The TICKLE PICKLE and quench your hunger and thirst after picking up your RSD favs. Thanks TP!
---